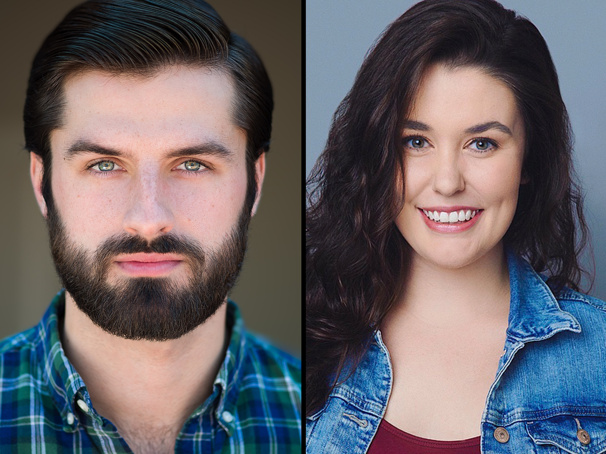 Jeff Sullivan & Ruby Gibbs
Raise your voice in cheer! Jeff Sullivan (Damn Yankees, Guys & Dolls) and Ruby Gibbs (Grease, Cats) will star as J.M. Barrie and Sylvia Llewelyn Davies, respectively, in the national tour of Finding Neverland. The touring production of the Broadway.com Audience Choice Award-winning musical will open October 1 at the Hershey Theatre in Hershey, PA, before continuing on to cities all across the country.

In addition to Sullivan and Gibbs, the Finding Neverland tour cast will feature Conor McGiffin (Charles Frohman/Captain James Hook), Emmanuelle Zeesman (Mrs. Du Maurier), Brody Bett (Jack/Michael), Seth Erdley (George/Peter/Jack), Caleb Reese Paul (George/Peter/Jack), Paul Schoeller (George/Peter/Jack), Josiah Smothers (Jack/Michael) and Ethan Stokes (George/Peter/Jack).

The ensemble includes Marie Choate, Josh Dunn, Ashley Edler, Joshua William Green, Daniel S. Hayward, Benjamin Henley, Elizabeth Lester, Allison Lian, Michael Luongo, André Malcolm, Spenser Micetich, Melody Rose, Kelsey Seaman, Adrien Swenson and Paul Thiemann.

Based on the Oscar-winning motion picture by David Magee, and the play The Man Who Was Peter Pan by Allan Knee, Finding Neverland follows the relationship between playwright J.M. Barrie and the family that inspired Peter Pan, or The Boy Who Wouldn't Grow Up—one of the most beloved stories of all time. The musical is directed by Tony winner Diane Paulus (Waitress, Pippin, Hair), and includes a book by Olivier nominee James Graham, music and lyrics by Gary Barlow (Take That) and Grammy winner Eliot Kennedy, and choreography by Emmy winner Mia Michaels (So You Think You Can Dance). Finding Neverland is packed with mesmerizing visuals, irresistible songs and plenty of laughs—it is a timeless story about the power of imagination…and spectacular proof that you never really have to grow up.

To find out when Finding Neverland is headed to your city, click here.